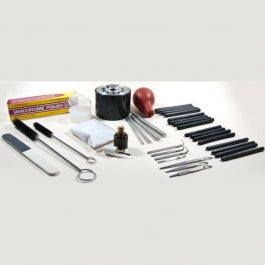 Lever and Button Fill Large Restoration Kit
Regular price
£199.99
£0.00
Unit price
per
This Large kit is ideal for those that have many
pens to repair.
The Kit contains Straight and Necked Sacs ONLY.
4 Size 14 Sacs
4 Size 16 Sacs
4 Size 18 Sacs
4 Size 20 Sacs
7 Assorted J and P Bars (most used sizes)
1 Small Bottle of Shellac
1 Small Bag of Pure French Chalk
1 Small Tub of Silicone Grease
1 Flushing Bulb
1 Knockout Block and 3 Punches
1 Cap and Barrel Brush Set
1 Polishing Stick 3 Assorted Grits
1 Tube Simichrome Polish
If you require a different selection of sacs, or J and P Bars please enter
the sizes and quantity in the kit box.
If the above selection is ok then just enter 16 sacs, 7 JP Bars in the box.
---
---