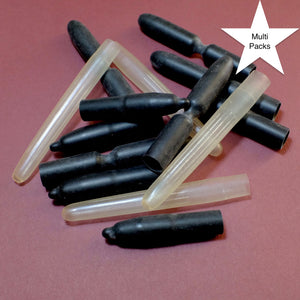 Specialist Ink Sac Multi Packs
Regular price
£17.25
£0.00
Unit price
per
TYPE THE SIZES AND
QUANTITIES YOU REQUIRE IN THE BOX ABOVE.
IF NO SIZE SELECTION IS MADE AN ASSORTMENT OF THE MOST
POPULAR SIZES WILL BE SENT.
Multi Packs available in
5  Sacs £3.45 Each
10 Sacs £3.39 Each
15 Sacs £3.38 Each
20 Sacs £3.37 Each
25 Sacs £3.35 Each 
50 Sacs £3.29 Each
100 Sacs £3.19 Each
250 Sacs £3.09 Each
500 Sacs £2.99 Each
PARKER VACUMATIC
To help with the refitting of the vacumatic sac (also called a vacumatic diaphragm) into the unit use the PELLET PUSHER to ensure a secure fit. When fitting the vacumatic sac into the vacumatic unit FRENCH CHALK is used. When fitting the unit back into the barrel SILICON GREASE can be used to ensure a smooth and snag free fitting.

Available in 3 sizes.
Small. Fits the Deb and Sub Deb. Vacumatic Fountain Pens.

Small. Fits the Parker 51 Vacumatic Fountain Pens.
Medium. Fits the Standard, Major Vacumatic Fountain Pens. 
Large. Fits the Oversize and Maxima Vacumatic Fountain Pens ONLY. 
IMPORTANT. The new diaphragm should be cut to a maximum length of 30mm to ensure it does not foul the breather tube when the plunger is depressed.

PARKER '51' AEROMETRIC

The original Pli-Glass sacs used in the Aerometric was very durable, but will eventually fail.

These replacement sacs have been reproduced to the same specifications as the originals.
Ensuring long life and an excellent filling capacity.
This sac is used to replace the sacs in the STANDARD size Parker '51'

Sacs should be fixed to the section with SHELLAC and dusted with FRENCH CHALK before reassembling the pen.

WATERMAN INKVIEW
The LARGE fits the full size Ink View pen.

Ink View colours  Silver Ray.  Copper ray.  Emerald Ray.

There is a Jet Version, this takes a different type of sac that is no longer available.
The SMALL fits the Lady Patricia pen.

Ink View Lady Patricia colours.  Sunset.  Lace ( This version has a Black rear Barrel).  Mist.

Please note that these sacs are NOT for the Ink View Pens with the one piece barrel.

When feeding the sac through the fixing unit SILICON GREASE will help.
Multi Packs available in
5  Sacs £3.79 Each
10 Sacs £3.75 Each
15 Sacs £3.69 Each
20 Sacs £3.65 Each
25 Sacs £3.59 Each 
---
---