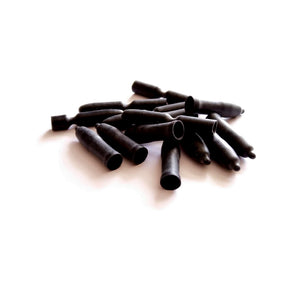 Multi Pack Specialist Sacs
Regular price
£37.50
£0.00
Unit price
per
SPECIALIST INK SACS

To help with the refitting of the vacumatic sac (also called a vacumatic diaphragm) into the unit use the PELLET PUSHER to ensure a secure fit. When fitting the vacumatic sac into the vacumatic unit FRENCH CHALK is used. When fitting the unit back into the barrel SILICON GREASE can be used to ensure a smooth and snag free fitting.

Enter your required combination of mixed sacs into the kit box.
 VACUMATIC DIAPHRAGMS

Small: Fits the Deb and Sub Deb Vacumatic fountain pens.
Medium: Fits the Standard, Major Vacumatic fountain pens.
Large: Fits the Oversize and Maxima Vacumatic fountain pens ONLY.
IMPORTANT: The new diaphragm should be cut to a maximum length of 30mm to ensure it does not foul the breather tube when the plunger is depressed.
WATERMAN INK VIEW
The LARGE fits the full size Ink View pen.
Ink View colours: Silver Ray; Copper ray; Emerald Ray.
There is a Jet version, this takes a different type of sac that is no longer available.
The SMALL fits the Lady Patricia pen.
Ink View Lady Patricia colours: Sunset; Lace (this version has a black rear barrel); Mist.
Please note that these sacs are NOT for the Ink View pens with the one piece barrel.
When feeding the sac through the fixing unit SILICON GREASE will help.
---
---