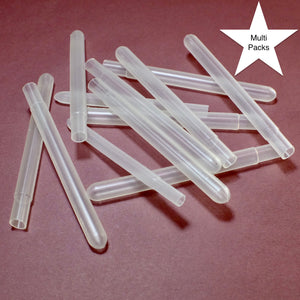 Silicone STRAIGHT Ink Sac Multi Packs
Regular price
£13.95
£0.00
Unit price
per
TYPE THE SIZES AND
QUANTITIES YOU REQUIRE IN THE BOX ABOVE.
IF NO SIZE SELECTION IS MADE AN ASSORTMENT OF THE MOST
POPULAR SIZES WILL BE SENT.
To find out what size sac your pen requires, measure the diameter of the sac peg as shown below. Use this measurement to find the size of sac.
These modern 100% SILICONE sacs are produced by the injection moulding system.
 Multi Packs available in

5  Sacs £2.79 Each
10 Sacs £2.75 Each
15 Sacs £2.69 Each
20 Sacs £2.65 Each
25 Sacs £2.59 Each 
These are excellent for replacing the sac in your CELLULOID PENS.

The sizing of ink sac's is in units of 64th's of an inch. Therefore a size 16 is 16 / 64th's of an inch in diameter.

In this metric era its a little difficult to measure in that format.
The table below of sac sizes has been converted to the nearest metric mm equivalent.
Available in the following sizes.
Size 14 Fits a sac peg of 5.5 mm

Size 15 Fits a sac peg of 5.9 mm 
Size 17 Fits a sac peg of 6.7 mm  
Size 18.5 Fits a sac peg of 7.3 mm
If the size of the sac peg fall between two sizes choose the smaller size sac

 Multi Packs available in

5  Sacs £2.79 Each
10 Sacs £2.75 Each
15 Sacs £2.69 Each
20 Sacs £2.65 Each
25 Sacs £2.59 Each 
50 Sacs £2.55 Each
100 Sacs £2.49 Each
250 Sacs £2.45 Each
500 Sacs £2.39 Each
---
---